Check Out the CDITC Defense Investigator Store!
Proudly display the CDITC logo and enhance your professional image.
A professional image when dealing with clients and potential clients is crucial to success. In addition, the image presented by criminal defense investigators while working in the field can often make or break a case. One of the best ways to present a professional image and clearly identify yourself is by displaying the CDITC logo. Our online store provides a wide variety of clothing and accessories that will enhance your image and allow you to proudly display the prestigious designation of a CDITC Board Certified Criminal Defense Investigator. Click on the image to visit our store!
Purchase shirts, jackets, sweaters, hats, and accessories proudly displaying the prestigious CDITC Logo! Mandamus Veritas!
CDITC VIP Authors Brandon Perron, John Lajoie, and Rory McMahon at the FALI 2012 Conference.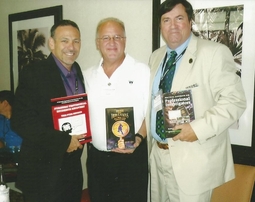 Forensic Testimonial Evidence Recovery - The FTER Method by Brandon A. Perron.
Trials and Tribulations of a Real Life Private Eye by John M. Lajoie
Practical Handbook for Professional Investigators, 2nd Edition, by Rory J. McMahon.
Our Online Book Store is ready to meet your training needs!
1-800-465-5233
More Investigative Books by Nationally Recognized
Board Certified Criminal Defense Investigators
Practical Methods for Legal Investigations: Concepts and Protocols in Civil and Criminal Cases -
by Dean Beers, CLI, CCDI
Published: February 09, 2011 by CRC Press - 382 Pages Authored By: Dean A. Beers, CLI, Associates in Forensic Investigations, LLC, La Porte, Colorado, USA
- Presents a system that is easily adaptable to small assignments as well as complex litigation cases.
- Emphasizes preparation, the most often neglected aspect of many investigations
- Differentiates between conducting and completing assignments and investigations
- Provides protocol for fact acquisition, recording, communicating, and reporting
Legal investigators are responsible for providing factual evidence – as the fact finders, they are the foundation for the attorneys they work with daily. The attorney is responsible for forming and implementing the legal strategy and presenting it to the judge or jury. The legal investigator provides checks and balances to ensure that no evidence is being forced upon a theory, and that no theory is being forced upon the evidence. Practical Methods for Legal Investigations: Concepts and Protocols in Civil and Criminal Cases presents legal investigators with a step-by-step process that reveals how to methodically find and report evidence in every aspect of the investigative process.
Similar to the scientific principle of using research to prove or disprove a theory, the author's Investigative Protocol is designed to find the facts that prove or disprove criminal charges, civil allegations, or elements thereof. The book includes case studies that clearly detail how the process of the Investigative Protocol applies to every assignment of the case and to the case as a whole. Comprehensive and methodical, the system provides a map to the truth.
Click on image/book cover to puchase $ 89.95 CRC PRESS
Practical Handbook for Professional Investigators, Third Edition
[Hardcover]
An increase in fraud cases has escalated government accountability and corporate oversight, and media attention on cases ranging from missing persons to white-collar crime has increased the visibility of professional investigators. This has resulted in a great source of increased work for the profession. The third edition of Practical Handbook for Professional Investigators continues to supply an up-to-date, nuts-and-bolts learning tool for students and an everyday reference for investigative professionals at all levels.
More relevant than ever, this edition adds two new chapters on death and terrorism investigations and several new sections.
$90.68- FREE Shipping
Trials and Tribulations of a Real Life Private Eye
By John M. Lajoie, BCPI, CLI, CII, CCDI (Hardcover)

In Trials and Tribulations of a Real Life Private Eye, Lajoie tells his story, explaining the decisions and actions that allowed him to turn a struggling one-man operation into a successful agency. From the details of his work on high-profile homicides cases and as a member of elite criminal defense teams to the death threats and personal struggles that come with success in a dangerous business, Lajoie describes the reality of the world of private investigation as only an expert can.
$ 19.95 Free Shipping & Handling
Click on Image/Book Cover To Purchase